Considering a visit to Desert Springs?

Here are the answers to some commonly asked questions.
Sunday Morning Worship Times and Location
Our church campus is located at 43435 Monterey Ave., Palm Desert, CA
(between Country Club and Fred Waring, across from College of the Desert)
Parking is available on all sides of the church building. Overflow parking is available in the rear in the KMIR parking lot.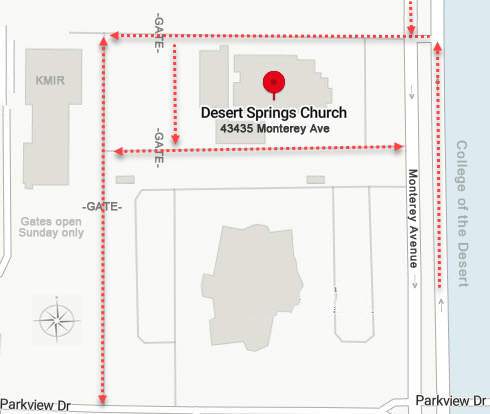 Enter the building through either the North or South side of the building. Upon entering you will be greeted by one of our Connecting Team. Simply indicate you are visiting and they will guide you to the Connecting Place a special  Welcome Gift. 
How About My Kids?
Children's and Youth Ministries
Look for the building that says Family Ministries near the south entrance of the church. Enter the building. And you will be at our check in booth for children. Our check-in assistant will register your children for the program. This will take a few minutes, so be sure to allow a little time.
We take the safety and security of your children seriously. All our ministry volunteers have been screened and background checked for safety. Be aware that we have cameras in all kids' ministry areas and always follow the 2 adults' rules. No one is ever alone with a child. By checking your child in and out of our SHINE KIDS & Family Ministry you can experience the main worship service worry-free.
At Desert Springs our children's ministry is much more than "childcare". We intentionally structure our children's ministry to help children get to know God and learn the Bible and how it relates to Jesus in an age-appropriate way. The lessons are fun and approachable and taught by committed volunteers and staff who serve Jesus by serving you and your kids. Trust us, your kids will love it and learn a lot!
Our children's ministry has age-appropriate environments as follows:
Ages 3 and under
Age 4-5 years
Kindergarten-2nd grades
3rd-5th grades
Should you ever have any questions, any member of our staff or any of our volunteers will be happy to help you! Also, if you have any questions about SHINE KIDS & Family Ministry before attending a service, please contact our Shine Kids & Family Pastor Lorraine Hart who will be happy to respond.